Return Policy & Warranty Information for Refurbished Craftsman Products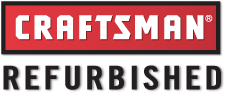 Refurbished Craftsman products may not come with the Owners / Instruction manual. Manuals are available to download at www.managemylife.com and / or order from www.partsdirect.com. Refurbished Craftsman products may not include original accessories that are listed on the original Manual.
Craftsman Refurbished Item Warranty Information
Sears warrants to the original purchaser that each refurbished item shall be free from defective material and workmanship for a period of months from the date of purchase, which period shall vary by product as set forth below (individually, the Warranty Period). In the event of a claim of defect during the Warranty Period, Sears shall, within its exclusive judgment, either repair or replace the defective item. This shall be the exclusive remedy of the purchaser for any defect. This warranty does not cover any product that has been subject to misuse, neglect, improper maintenance, or that has been operated in any way contrary to the operation manual. This warranty does not extend to problems resulting from normal wear or by the use of accessories that are incompatible with the products that would adversely affect the operation, performance, or durability of the product. Such normal wear items include, but are not limited to, spark plugs, filters, knobs, blades of all types, bits, clutches, batteries, belts, and starter ropes. Sears reserves the right to change, modify, or discontinue models and accessories at any time without notice or obligation to the original purchaser.
Specific Warranty Periods
- Portable Power Tools, and Bench Top (electric, air, & battery): 12 months
- Air compressors: 12 months
- String Trimmers and Blowers (gas & electric): 6 months
- Chainsaws (gas & electric): 6 months
- Walk behind lawnmowers (gas & electric): 6 months
- Pressure Washers and Generators: 12 months
- Other non-power garden equipment: 12 months
Please Note: Refurbished Craftsman products may not be returned to a Sears Retail Store. They must be returned to the location you received when requesting your Return Authorization. Contact customer service for more information at nbdserv@genco.com or call 1-800-224-3141 Option: 2.
Returns Process
We guarantee your satisfaction, or your money back.
Our goal is that you are completely satisfied with your refurbished purchase. If you are not satisfied, simply return your purchase to the location that sent it (not your local Sears store) in its original packaging, with your original receipt/email confirmation within 30 days from the purchase date for a refund or exchange. After 30 days only exchanges will be made for the identical item or a substantially similar item of equal value.
Replacement products obtained in an exchange transaction will only be exchanged and are not refund eligible
Where applicable, all refunds will be issued in the same form as the original method of payment
Shipping and handling charges are not refundable
For questions on returns or your order, email nbdserv@genco.com or call 1-800-224-3141 Option: 2.
Proper Packaging
If you are using a box to ship your return items, make every effort to use a new one. A box loses its original protective qualities over time and may not adequately protect your shipment if it has been previously used. If you must reuse a box, make sure it is rigid enough to withstand shipping and free of punctures, tears, rips and corner damage. Box flaps should be intact. Any old labels or other markings should be removed or covered.
To close a box securely, do not use masking tape, cellophane tape, duct tape, string or paper overwrap. Use strong, thick tape that is two or more inches in width. Apply three strips to both the top and bottom box flaps so that the middle and two edge seams are properly sealed.
Place the shipping label on the top of your package. To prevent confusion, place only one address label on your package and include your return receipt and Return Authorization Number inside. Do not put any labels over edge seams, closures or on top of sealing tape. Remove or cross out old labels or markings on a used box.
Return Instructions
If you have received an incorrect item, defective item, or would like to return, exchange or request a warranty replacement or warranty repair then please follow the steps listed below:
- Contact us at nbdserv@genco.com or call 1-800-224-3141 Option: 2 for a Return Authorization. Please have your PO number available when calling or include your PO number in any correspondence.
- Do not send any product back without getting a Return Authorization first.
- Product purchased from NoBetterDeal.com may not be returned to a Sears Retail store.
- Once a Return Authorization has been received, package your item appropriately to eliminate damage and mail your item to the address provided with your Return Authorization. Clearly write your name, address and Return Authorization number on the package.
Customer Service hours of operation are Monday through Friday from 8:00am to 4:30pm EST.