Press & Media for NoBetterDeal.com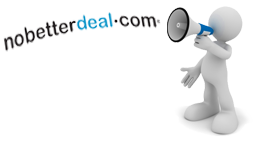 People are talking about NoBetterDeal.com. Are we blushing? Oh you're too kind! Well if we must...
NoBetterDeal has received great media coverage from some of the biggest names in news. Take a look at some of the media outlets who have covered our great deals and innovative business.
Press Coverage
No Better Deals Will Be Found ~Frugal Holiday and Year Round Shopping
10 Sure Ways to Save on Back-to-School Shopping
The Savvy Life - No Better Deal
LA Times - Your Money: The Best Deals for Vacation Gear
MSNBC - Planning Takes Stress Out of Holiday Shopping
St. Peterburgh Times - Pace Yourself When it Comes to Holiday Shopping
The Eagle Tribune - Smart Spending: 4 ways to Keep Santa in the Black
The Salt Lake Tribune - Watercooler » Five Christmas Shopping Strategies
Quad Cities Argus Dispatch - Smart Spending: 4 ways to Keep Santa in the Black
Ontario Daily Bulletin - This Holiday Season, Create a Plan Before Shopping for Gifts
The Pittsburgh Technology Counsel - Liberated Workforce
NewsChief.com - Smart Spending: 4 ways to Keep Santa in the Black
Additional NoBetterDeal Coverage
NoBetterDeal has also been featured by the following media outlets:
The Wall Street Journal
San Bernardino Sun
Everett Washington Herald
Poughkeepsie Journal
Indy Star
Wilkesberre Times Leader
Winter Haven News Chief
Ontario Daily Bulletin
Salt Lake City Observer